Interview: Robbie Gianadda (Flat 12 Mushrooms)
Over the last two years, Alli and I have become really interested in supporting Western New York's farming scene and we are going to try and take that up a notch in 2014. In addition to recommending good restaurants that use quality local ingredients, we are going to have a couple new features that highlight great farms in the area and how you can find their food. Today we have our first Buffalo Foodie article of 2014 and we are featuring Robbie Gianadda, the owner of Flat #12 Mushrooms.
What started as a project with some spent Spot Coffee grounds in the basement has turned into a busy business with chefs waiting to get their hands on Robbie's mushrooms. At the moment, the general public can't buy the mushrooms directly from Robbie but you've probably seen them on plenty of local menus. Restaurants like Kaydara, Bistro Europa, Tabree and Rue Franklin have used his mushrooms and they were featured in the last Workshop pop up at Delish.
We got a hold of Robbie and asked him about his favorite places to eat and drink in Buffalo, here's what he had to say….
Right now, where are your favorite places to eat in Buffalo?
RG: Current favorites include anywhere that there is a significant language barrier: Dollar Pho, Miss Hot Cafe, Bistro Europa (Chef/Owner Steve Gedra is too excited and rarely makes any sense). Situational favorites include Lloyds during a hangover and Marco's for family nights out.
Where do you like to get a drink with your friends?
RG: A night out drinking depends: if it's a snowday, it always used to be The Pink. In fact, for me it was always The Pink all the time, but now I'm super grown up and sophisticated. So now when I day drink I usually go to the Blue Monk, mainly because it is in my back yard. If I want to not remember a lot of the night, I'll head to Vera.  If I am feeling like some live music and whiskey, it's the Sportsman. If it's summer time then I will usually stay on my street and have some beverages with my neighbors. We stay up late, drink way too much and watch people trying to parallel park. If somehow I manage to stay out past 3am then I end up at The Pink.
If you had a friend visiting from out of town, where would you take them for a good "Buffalo" time?
RG: A Buffalo night out for out of town friends? Summertime is strictly out door events and a light dinner followed by a bunch of drinks (on the waterfront or a patio or a beer garden) and then a second meal (Jim's or food truck) and then a horrible strip club (Colonie or industrial park Tiffany's). Wintertime is usually a long meal at Bistro Europa or Tabree followed by dancing where ever Lopro is playing and then the horrible strip clubs.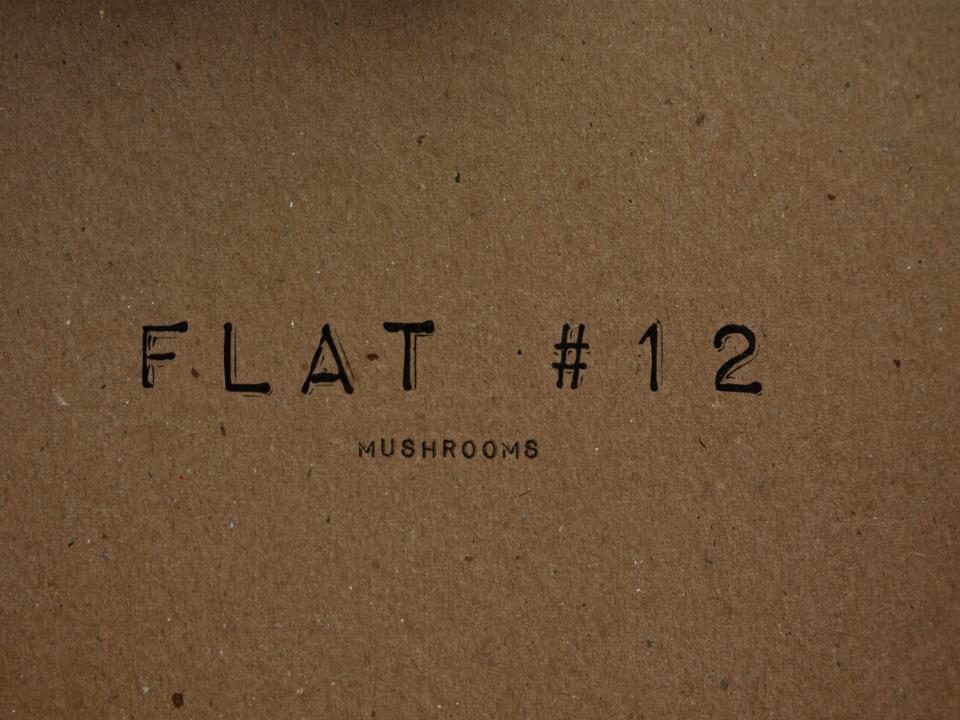 What are some food memories you have from your childhood?
RG: For Easter we used to eat rabbits….
What types of restaurants/cuisines would you like to see more of in Buffalo?
RG: Please more tiny restaurants that seat 15 or less and serve only one kind of food. I want yakitori, I want a bahn mi shop, I want a tamale joint, I want a place thats serves shit I have never even heard of on a regular basis!
Can I get a place that makes real Belgian waffles and serves it with really good sausage and a huge beer?!? I want to be embarrassed at my lack of knowledge about the kind of food I am about to eat. I want to make mistakes and get laughed at by the wait staff.  I really don't think that is asking too much.
———————————————
We'd like to say thank you to Robbie for taking time away from the basement to answer a couple of our questions. Follow Flat #12 Mushrooms on facebook for the latest news and keep an eye out while eating around town.  If you'd like to learn more about Robbie and his mushrooms, check out this great article from May 2013 by Lauren Newkirk Maynard.