As promised, two months to the day, Buffalo Eats is back. Where have we been? No where special, really. We bought a house and moved from Allentown to the burbs (I know, it was inevitable). That took up a lot of our time. We enjoyed some down time, tried to eat out without taking pictures (harder than it sounds), and revamped the site a bit.
So what's new?
Thanks to my brother, Tom Burtless, we have a new look, better guides (they are still being updated), new self hosting which will allow for more customization and a few new pages.
Food Porn's are gone. Well, not the actual restaurant reviews, just the name. While the idea of providing unpretentious and accessible reviews is staying the same, I think we've outgrown the term. Plus, it stops a lot of people from accessing our site at work/school/wherever there are blocked sites.
While a lot of our old features will remain the same (First Bites, Quick Bites, Full Restaurant Reviews, Sunday Readings, Buffalo Foodies), our Podcast, Eat it Up, is still on hiatus until further notice. That said, keep an eye our for new features…Meet our Farmers, Sunday's at the Market, and more.
We also plan to keep guest posts going as they were very popular during our time off. And we have a few new amateur writers who will be contributing on hopefully a regular basis. (If you are interesting in joining the writing team, send us an email at buffaloeats@gmail.com)
MERCH! We have a new t-shirt design as well as stickers that we will have for sale very soon. Keep an eye our for our virtual shop to open up in the coming weeks.
Alli has been doing some guest pinning for Visit Buffalo Niagara. If you are on Pinterest, make sure to follow her board!
We're going to London! Remember when I attended the North American Chowzter Awards in San Francisco this past November? Well, now Alli and I get to attend the International Awards this April in London. Pretty neat, right?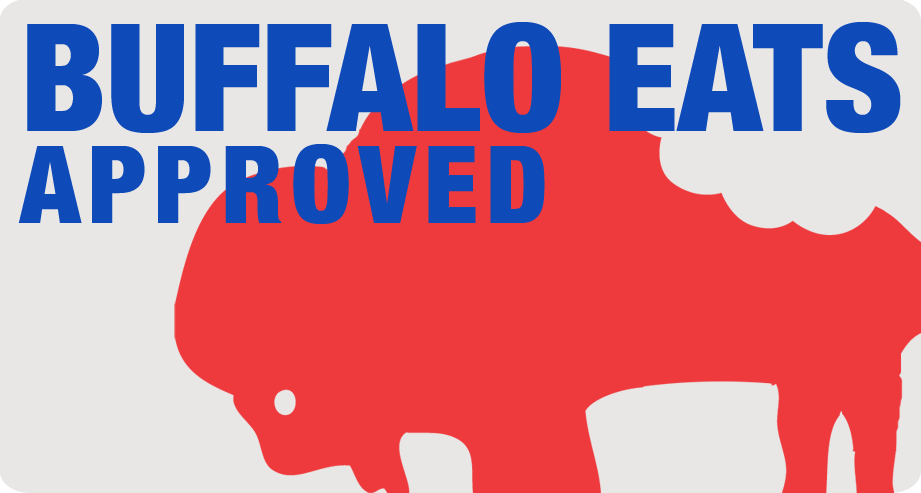 Finally, see the above image? It's actually a sticker that we will giving out to our favorite restaurants/shops in Buffalo. So, in the coming weeks keep an eye our for these guys to start popping up in the windows of our favorite places!
Tomorrow we will post Sunday Reading with some important foodie news from the past few weeks and another guest post from our good friend Chef James Roberts. We can't say thank you enough to all of our guest bloggers over the last two months, they've contributed some pretty amazing articles. An even larger thank you goes out to Christa Glennie Seychew for putting together that fantastic collection of guest bloggers to help us out.
Monday we plan to post a short recap of the few places we have eaten the past few months and we should have a new post for every day of the week. Thanks for being patient for 2 months, we're happy to be back!