We are currently on hiatus until March 1st but that doesn't mean the blog is stopping. Thanks to our friend Christa Seychew, we will have a guest post every Sunday afternoon. Today's post is by our friend Donny Kutzbach, you can see the previous guest posts by clicking here.
I have a soft spot for the 700 block of Elmwood.
In my late teens and early 20s, I spent a whole lot of time there hanging out— skateboarding, buying books, drinking coffee, and working (at Urban.) I still find it to be one of the most vibrant, exciting blocks, not just on the Elmwood strip but in the entire city.
For me, the 700 block also represented Buffalo's promised land of Japanese cuisine. About eighteen years ago, it was there that I first had real sushi in Western New York. Kuni Sato opened the tiny storefront sushi bar, Kuni's, offering the Elmwood Village authentic, always fresh, sushi and other Japanese offerings. He also had plenty of the traditional alcohol-rich rice nectar called sake.
Kuni's was the ichiban of Buffalo's sushi culture and one of my favorite places to eat. Then Kuni got tired of it, closed up his Elmwood spot and retired for a few years, only to reopen down the street and around the corner on Lexington.
But that 700 block tried to keep the Japanese dream alive.
First we got Kibarashi, which moved in at Kuni's spot at 752 Elmwood, only to be replaced later by the so-so Wasabi, which is still there. Just across the street, the well-regarded Blue Fin Asian Bistro stuck it out for a few years but recently shuttered, making way for another soon-to-open outpost of Allen Street's Don Tequila, dubbed Agave.
So, barring Wasabi—which was never really all I hoped it might be—there went all the promise of sake and a belly full of good Japanese food in that lovely neighborhood.
Or so I thought.
Buffalo is undergoing a noodle renaissance. Just a couple months ago there were no local places I could really recommend for pho, ramen, or any real Asian noodles. But in little more than a month, it all changed.
Pho Dollar (see RJ's piece) sprang up in January and—with a relatively gigantic menu, cheap prices and excellent fare—it has captured the fancy of noodle and spicy broth lovers.
Then just weeks ago, on that storied 700 block of Elmwood, came Sato. To my mind (and stomach) it was the best thing that could have happened.
I had been hearing about Joshua and Satomi Smith's Serene Garden—a mixed purpose Asian horticulture and landscaping outpost and tea house with Japanese menu—on my old stomping ground of Grand Island, but never got to visit. It made sense when I heard they were taking what they had done there with food and transferring it to an Elmwood location.
Joined by frequent dining and sparring partner Erik "Spicoli" Roesser, I checked out Sato on a frigid Wednesday evening where temperatures were tiptoeing through the single digits. It was the kind of night that was made for warm sake, but I had prepared myself for the tragedy that Sato was still without their beer and wine license.
Lo and behold, we walked in and the shelves were fully stocked with plum wines, beer, yuzu, and sake! We lucked out, as just the day before they had gotten their license.
Immediately I thought that things here didn't look radically different from when the location was home to Organic 3 Cafe, the healthy menu deli and juice bar. That was fine, because the same understated elegance, simple design, and silver and grey color scheme suited Sato nicely.
First things first: order up some warm sake. The Kurosawa was an easy pick as it is rich, dry, and just sweet enough, while being a relatively affordable choice at $34.00 for a 24oz bottle.
Now make no mistake, we were here for noodles! Still, the starters and small plates looked too good to pass up, so we jumped at the kimchi sampler, the gyoza dumplings, and buta no kakuni.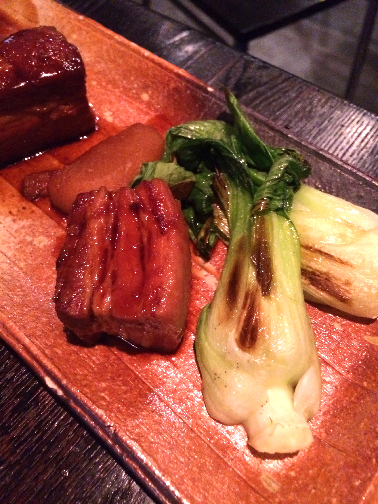 The three styles of kimchi on sampler were gone fast. We liked the very outside–of-the-box taste and texture of the crisp and cool shredded daikon kimchi the best. Next came the half dozen dumplings—tiny, neatly wrapped, and perfectly pan-fried on one side with a center of sweet pork balanced by ginger and garlic.
As the buta no kakuni (Japanese braised pork belly) arrived, I was going into panic mode. We had been sitting for twenty minutes and still no sake! With the fresh-out-of-the-envelope license, Sato had already run out of the Kurosawa. We instead ordered the Ozeki (a junmai from California), but it still hadn't shown up.
After a few bites of the tender and sweet soy-soaked pork belly, our served showed up with apologies and—finally—a carafe of warm sake. The Ozeki was $14 less than the Kurosawa and every bit as fitting  for the hearty meal we were enjoying.
Then the behemoth bowls entered the building!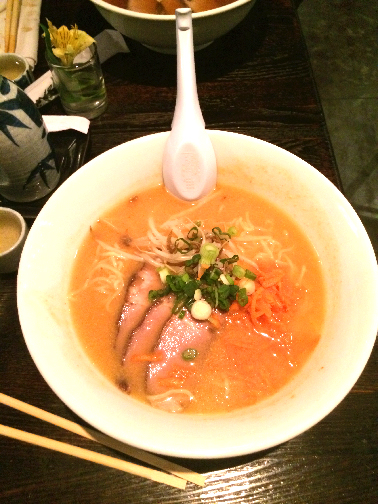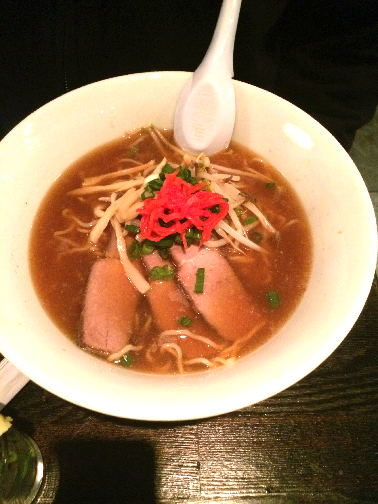 Erik had chosen Sato's signature ramen, which arrived perfectly composed with pork slices, sprouts, bamboo, and pickled ginger. I had the spicy miso ramen, which is very similar to the signature variation, but made with stock that's been infused with a rich, piquant miso. I generally like all things pretty spicy, especially Asian food; I put sriracha on everything. This ramen was not particularly hot and spicy for me and that was fine because the rich, full flavor of the broth was more than enough to keep me interested.
And the noodles…
With the first bite, I remarked to Erik that you could tell that these were scratchmade—chewy never rubbery. They weren't too fussy or delicate, but I could taste the freshness with each and every spoonful.
Even after three starter plates, the two of us cleaned our bowls. We naturally made it through the two carafes of sake, too. Hey, it was really cold out and we needed the warm up!
Leaving Sato after an exceptional meal (particularly for a restaurant that had only been open for a few weeks), I was most excited at the myriad of possibilities: Another dinner like that. The perfect lunch stop. And perhaps filling one of the Queen City's biggest voids—a late night food option.
Yep, to showcase what has immediately become the Queen City's premier sake bar, Sato will be offering a limited menu Tuesdays through Thursdays until midnight and Fridays and Saturdays until 2am.
I'll be back (and not just for the noodles), but because someone has to try all those different sakes.
Banzai to the 700 block!
Donny Kutzbach is part owner of the Town Ballroom and Funtime Presents. He is also an avid cook and writes about cocktails for Buffalo Spree.