Restaurant Review: The Lodge (CLOSED)
Today's guest post is written by blogger S.M. Traphagen from Digestion Suggestion Food Blog. Her blog focuses on finding local restaurants that can cater to diners with digestive/food sensitivities.
In the heart of Buffalo's entertainment district is a wholly new style of restaurant. One that is urban, upscale, with a rustic ski lodge twist. I'm all for a ski lodge atmosphere, it's a perfect theme for Buffalo, but the retro hunting décor takes a bit of getting used to.
The Lodge, located at 79 West Chippewa Street, is a stone's throw away from the theatre district and sports venues. It's prime location for Buffalo's night life and offers city professionals a unique lunching experience.
I am all for pushing culinary limits and stepping out of our "native" comfort zone, but it does feel as though The Lodge is still trying to get its bearings. Having eaten there three times, I still can't get a fix on the menu style and what they are trying to achieve. I did try to find out a bit more about its history and if they can or are willing to cater to those with digestive sensitivities, needless to say I was left wanting. So forming my own conclusion based on ordering history and what they currently offer, it would appear they do not cater to those with digestive allergies. Most of the menu options are gamey and loaded with various cheeses (and when I say loaded I mean from the inside out- making it difficult to "take the cheese off"). To play devil's advocate, they do offer some seafood options and vegetarian options.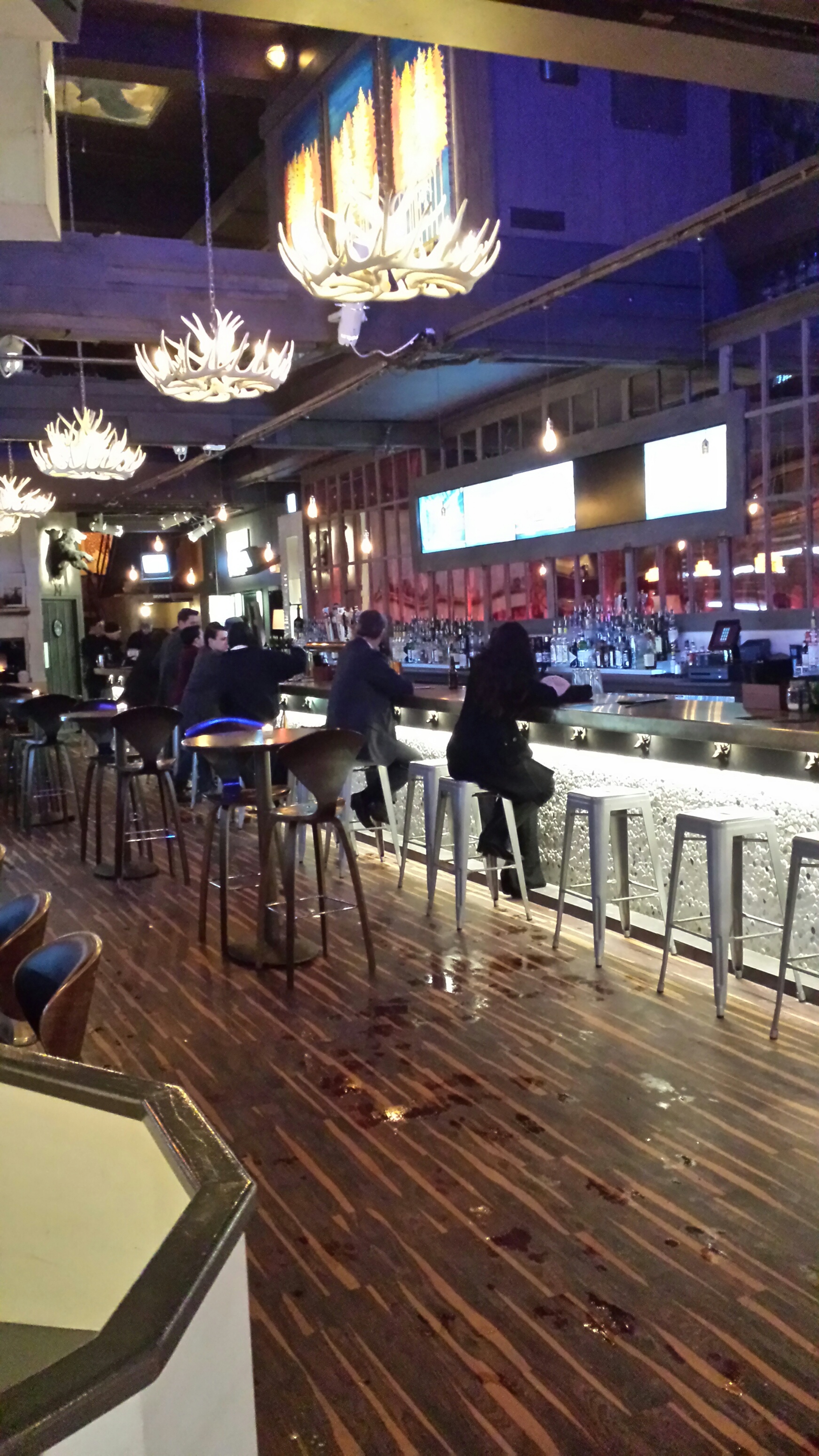 My first two experiences at The Lodge had me making a bee-line for the Campfire Grilled Salmon. It had been much talked about and I will concur; it was impeccable, fresh, and not farm raised. The glazed sauce had a tangy zip to it and the sautéed vegetables were lightly seasoned and not over cooked. All in all I was pleasantly surprised. I also attempted the stuffed Portobello sandwich that came with a ratatouille sauce and warm bun that held it all together. The key is to plate the sandwich and hence the bun at the last minute so the bread doesn't get soggy. I can safely say it was not soggy in the least. My friend had the Croque Monsieur, a grilled cheese and ham sandwich which comes loaded with cheese. She couldn't stop talking about it. The bread was buttered, lightly crisped and had a Gruyere cheese, or similar tasting, wrapped around the outside of this classic sandwich. At my request, cheese was left off of my dish and the wait staff and chef seemed accommodating, albeit a bit slow on the service. We were there for lunch and if you're catering to a "business" atmosphere at lunch you have to be able to get people in and out the door in an hour. It took us almost two.
My last experience left me a bit perplexed. I had expected to order their wildly talked about soft shell Crab Po Boy and the Campfire Salmon, because I loved it so much the first time. I had looked at the menu online before going and was crest fallen to find out the menu had changed completely. The hostess apologized for the delay in uploading it to the website (a delay for which was quickly corrected, as it is now on the website) and offered the new menu choices.
While a few options from the old menu still remain; the salads, fish tacos, sliders, and the salmon sandwich, there are some new choices that leave me wondering, again, who is The Lodge? What are they trying to achieve? Choices such as Bone Marrow, wild Boar Ragout, stag on a stick and crab and salted cod croquettes had me shying away from ordering. But then I saw Seared Ahi Tuna, Salmon of the day, mussels, scallops, veggie burger and vegetarian chili and thought "ok I can do this". I mean this is Buffalo; you can't have a restaurant without some meat options; for which my husband is eternally grateful. We ordered the Lobster Mac and Cheese- a staple from the first menu and served with orzo pasta ($25.00). It's a hefty price tag. The mac and cheese was ok, although the orzo pasta thins it out a bit, so it's not as hearty as one would anticipate for a mac and cheese classic. You get nice big chunks of lobster meat, roasted onion pieces (similar to small medallions), tomato and a complexity of cheeses that make for a nice compliment to the lobster.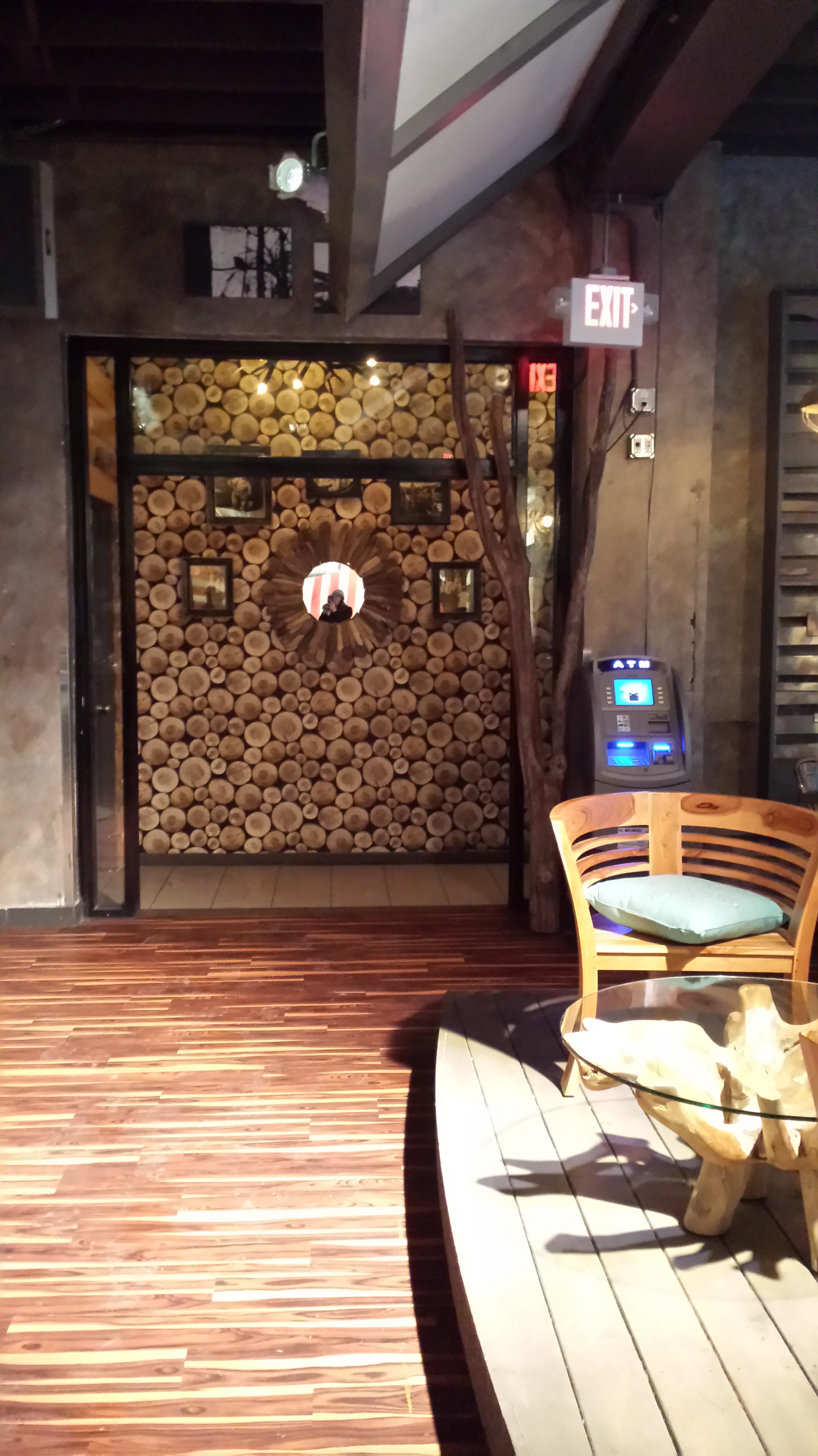 I ordered the fish tacos ($10.00). You get two tacos with lightly toasted soft shells. The Cajun style seasoning on the fish had a nice kick to it and the sauce had a hint of ceviche (I tasted lime and green onion).
I'm split down the middle when it comes to The Lodge's food. The food is ok but not for its prices. The seating for dining is melded in with the bar area so a cozy or intimate dinner is out of the question. On the other hand- and there always is- if you're there for atmosphere then this is the place. While hunting and game are not my thing; the antler chandeliers, soft blue lighting, roaring crystal stone fireplace and faux wood wall treatments are hip and eclectic. It truly transports you to another place. The fusion of urban decadence meets French lodging is seamless and tastefully done. The variety of drink options has you feeling like you've stepped into the Northend Bar (think Witches of East End) and conversation is always flowing.
The Lodge does push you to step outside your comfort zone and I think with a little more time and ironing out this place will start a new trend long overdue in the Buffalo area.